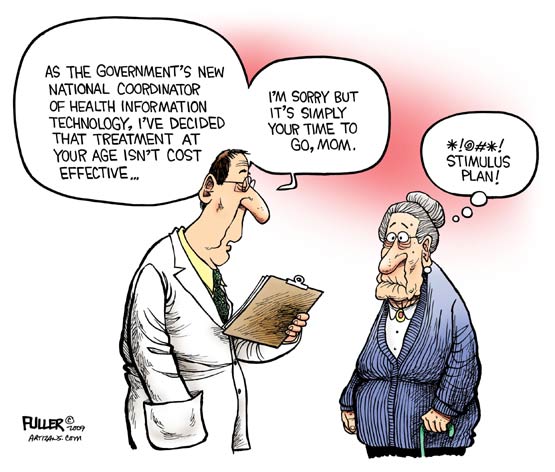 Cartoon capturing the lunacy of the "Czar" mentality.
For decades now, America has been devising more and more bureaucratic agencies - under the Executive Authority of its presidents - in order to
micromanage
vast areas of its political economy. Meanwhile, each of these agency heads [or, managerial directors] has been euphemistically labeled "
Czar
" by each successive administration. But what precisely is a
Czar
, and precisely what kind of authorities does such a political title imply?
Let's see what the
Dictionary
says about this
all important
political term - before making any rash judgments regarding it.... Perhaps, it's really no big deal - in a
Representative
and
Democratic Republic
?
Czar:
An Emperor, or King.
An Autocratic Ruler or Leader.
A Tyrant, or Autocrat.
A Dictator possessing "Life Or Death" Authority.
A Slavic and contracted form of the Latin [or Roman] term "Caesar."

Any person exercising Absolute Authority [or Power] within a given specialized field.

The

term

Czar

is

sometimes

applied

generally

to

a

powerful

leader

or

to

a

government

administrator

with

wide-ranging

authorities and

powers.
Whew! Not so seemingly innocuous, of a term, is it? Particularly, for its adoption within a primarily
Democratic Republic
- which is supposedly governed, overall, by the willing consent of its people. But, of course, Our American Presidents do have the Constitutional Authority to delegate their own political powers - under our existent and constitutionally applicable laws... so where is the real problem here? After all, isn't
The President
[himself] a:
Dictator
,
Tyrant
, or
Autocratic Leader
- of sorts - under our already existent
Constitutional Laws
?
No, he's not! In fact,
The President of The United States
is merely an
Elected Executive
- charged with enforcing and upholding our already existent laws - without any Legislative Powers, or Authorities, at all!
Congress [alone]
is fully charged with devising, and/or writing, our laws; while the President has the constitutional authority at ultimately enforcing them; and the
Judiciary
is vested with the authority to largely oversee this entire political process. If the President cannot [himself] devise:
Policies
,
Restrictions, Regulations
, or
Laws
- then how can he lawfully delegate such wholly
Unconstitutional Authorities
to yet another?
Moreover, the entire concept of having a
Separation of Powers and Authorities
- divided amongst these three politically elected branches - in the first place, was to ensure that no one particular human being [or grouping thereof] could exercise such
Tyrannical Authorities
or
Powers
in the first place! When one branch of our government possesses all three [or even just two] of these
Powers
and
Authorities
, we are in fact living under a
Despotic
and
Tyrannical System
- even if it remains largely benevolent and functional. Which, of course, is no longer predicated by our own laws - but rather, the mere whims and/or desires of the particular tyrants now being fully in charge.
Today, we are beginning to [just now] see the inescapable results of such
unbalanced
and
unchecked thinking
- throughout our entire societal fabric. This is only one of our varied and numerous political problems! Don't even think, that I'm laying everything - which is now going on - at the foot of such an ill-advised and unlawful political policy. Nor, do I make such philosophically important statements - merely because
The Democrats
are now fully in charge. As every other nation in history has ultimately found out,
Czars
are never a very good political idea for anyone - no matter who is factually in charge! This is not a "
Democrat
," or "
Republican
"
Issue
- it is an
American
one....
Get it through you head, once and for all... I am not an
Anti-Liberal Democrat
, nor even an
Anti-Conservative Republican
... I am "
The Real American
" and I am speaking up for the
Real American Truth
; simply because no one else will honestly and rightfully do so! I could care less which particular tyrannical leadership you'll ultimately vote for in each succeeding political election - for they will both inescapably lead you in the very same self-destructive direction. Instead, I would rather properly educate you... so that you might possibly wise up to their singularly devised and carefully designed political traps.
The Truth
is a very powerful weapon, but it doesn't come without a cost to those who will earnestly desire to wield it! They must first, invest their own personal energy to overcome their inescapable fears and honestly look outside of the box - which they are currently in - in order to obtain it... then, they must somehow acquire the necessary guts and political backbone - in order to speak up against the firmly entrenched political interests around them - often while receiving tremendous ridicule from their far less educated brothers... and finally, they must do so: clearly, concisely, and consistently - even unto the point of imprisonment, or even death - when necessary! But in the end, the less educated will invariably thank them posthumously - as they have always done in the past.
An Important
Scriptural Reference
That Our Ancestors Understood:
"And they shall know The Truth, and The Truth shall set the captives free!" - John 8:32.