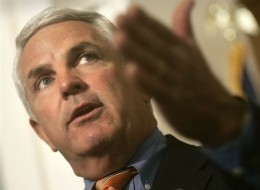 Representative John Shadegg (R-Arizona) has good idea....
Republican
Congressman John Shadegg
, from
Arizona
, is calling for public support of
H. R. 450
- known as
The Enumerated Powers Act
- which will [if passed] force Congress to show specific Constitutional Authority for each new piece of Federal Legislation, prior to its legislative adoption. Although congressman Shadegg claims that his bill: "Will force the Congress to reexamine the role of national government" - it may in reality [at least] slow the process by which they are systematically dismantling our once great nation.
***
The following video - in congressman Shadegg's own words - explains H. R. 450 in more detail....
The Enumerated Powers Act [H.R. 450] proposed by Congressman John Shadegg of Arizona.
Every member of
Congress
- in both:
The United States House of Representatives
and
The United States Senate
- has sworn an oath, "To Uphold And Protect The United States Constitution." Considering that supposedly heartfelt oath, we should be able to expect a unanimous "
Yes Vote
" on this particular piece of legislation from both of these political parties... and yet, it has been introduced repeatedly since 1994 - without any apparent political successes. It's almost enough to make one seriously question their political sincerity - in the first place. Very strange behavior, indeed, isn't it?